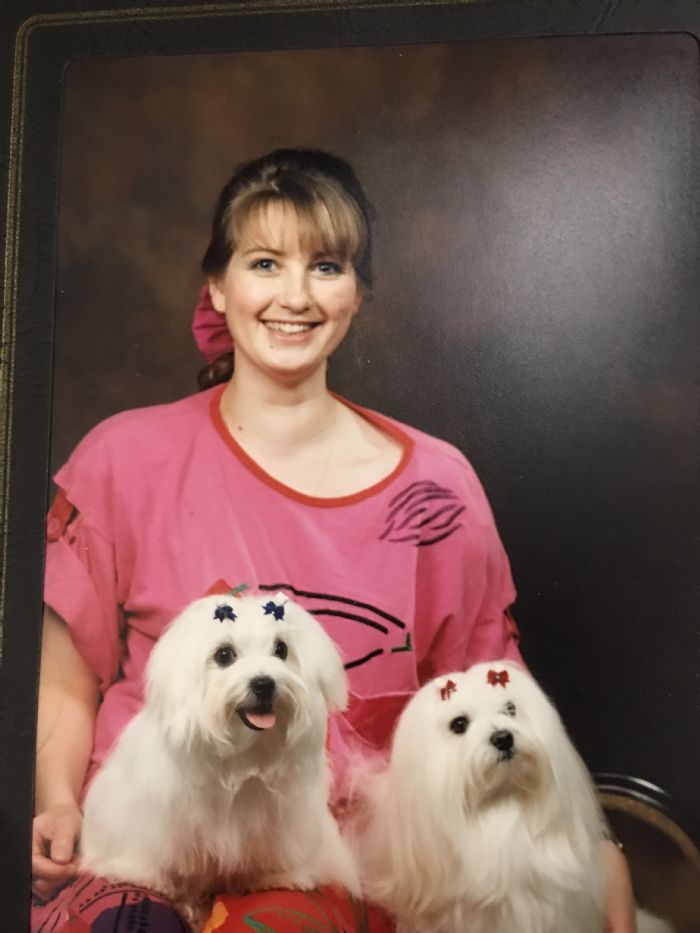 Natalie with Jeater Anteus of Snowgoose (Imp UK) - Peter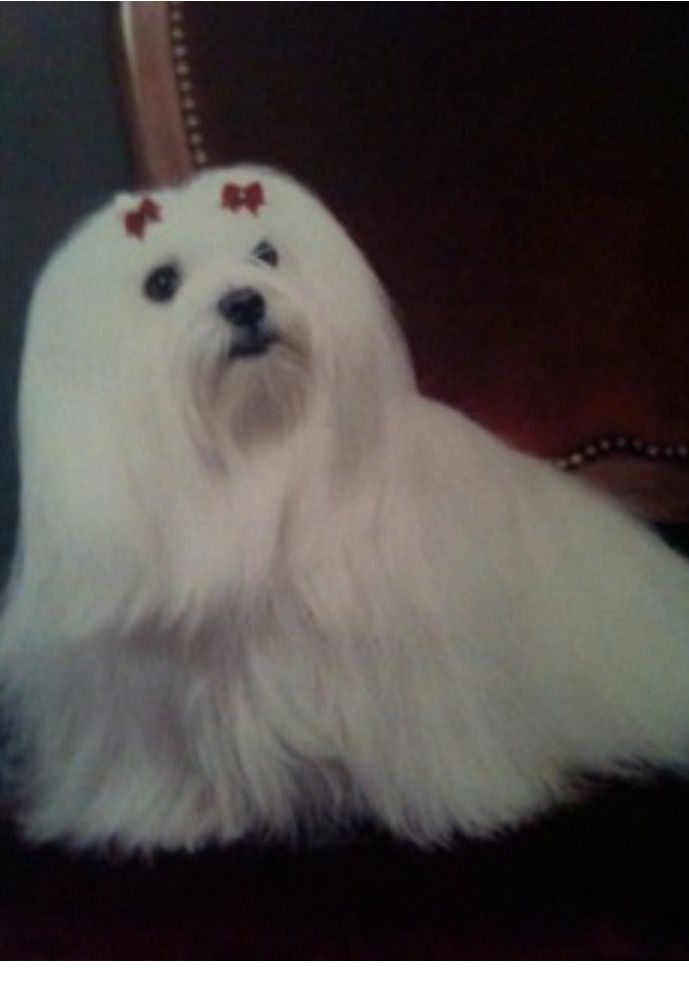 and
Snowgoose September Dancer (Imp UK) 1984 (Bunty)
Kupikupi Maltese became our prefix in the late 1970's. We were fortunate enough to breed many little Kupi Maltese who attained titles and who are the ancestors of many famous and well loved Maltese in several States of Australia.
We built our kennels on our beautiful Snowgoose Maltese, Jeater Anteus of Snowgoose (Imp U.K.) Peter and Snowgoose September Dancer (Bunty), sent by Vicki Herrief in U.K. together with our lovely Velette girl Miss Dior Lea who was the daughter of the top winning dog Aust. Ch.Sweetemper Sensation kindly sent to us by Jenny Sayers.
Sadly we lost our beautiful Peter at the tender age of two years old when he had his teeth cleaned. This tragedy was devastating and for many years we grieved for him and did not continue with showing or breeding.
Many years later we were fortunate enough to buy two beautiful Alrich bitches, Alrich White Rose (Rosie) and Alrich Snow White Rose (Bessie). These two adorable girls helped to heal the grief and arouse interest once again in this delightful breed. We cannot thank Pauline and Bob enough for sending these beautiful girls.
It was in June 2016 that we visited Pauline and Bob Parkes and their adorable Maltese in WA. We fell in love with an awesome little puppy, Alrich Show Time Snow Prince - a stunning, adorable little son of their magnificent import dog, 'AUST. CH. SLV. JR. CH Show Time By Rolex Valentina's Magic (Imp SVN) - TREND
This led to an examination of pedigrees and the astonishing discovery that our beautiful Alrich girls, and the little boy, could all be traced back to our much loved Snowgoose import Jeater Anteus of Snowgoose.(Imp UK).
We are so much indebted to Pauline and Bob for continuing to breed these beautiful Maltese with care and love and to allow us the privilege of buying Alrich Show Time Snow Prince, the son of their magnificent import Trend.
We are happy to announce that we welcome two puppies to our home from Toiperro Maltese bred by

Sandra Stocks. Toiperro Return of Snowgoose(Pip) and Toiperro Sweet Eidelweiss (Blossom). Both these lovely Maltese are direct descendants of our imported Snowgoose. Thank you so much Sandra for these precious babies.
These delightful Maltese will help us continue breeding once again beautiful Maltese that are sweet natured, sound, intelligent and fun loving.
Susan and Andrew Collingbourne
Contact Details
Susan Collingbourne
Boolarra, VIC, Australia
Phone : 0401531181
Email :
[email protected]
89417 Visitors